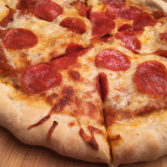 Homemade Pizza
It's Saturday night and that means it's pizza time! Our homemade pizza recipe has been through many iterations, and this one is the best.
In the past when we've made pizza dough, we've run into some issues. The dough was too sticky, didn't rise well, or when we tried to stretch it out it kept tearing apart. However, these mistakes taught us many valuable lessons.
If your dough is too sticky, gradually add more flour.
If your dough doesn't rise well, it's probably due to the yeast. Make sure your water is not too hot and not too cold: it should feel like warm bath water. Secondly, don't use old yeast that has expired.
For the sauce, we typically just buy a jar of pizza sauce from the store. However, this time we used a healthy 7 vegetable sauce recipe by Jamie Oliver. It's a great way to add an extra nutritional punch to tomato sauce. We made a full batch of this sauce last week. It tastes pretty good on top of pasta, and even better on top of our homemade pizza.
When you're looking for a fun time at home, try out this homemade pizza recipe.
Ingredients
1/4 cup warm water
1 packet active dry yeast (1/4 oz.)
2 T honey
18 oz. bread flour
1 cup water
1 T. kosher salt
1 T. sugar
2 T. olive oil
Jamie Oliver's veg sauce
1 bag mozzarella cheese
1 package sliced pepperoni
Fresh herbs (basil and oregano)
Instructions
1
Mix warm water and honey until combined. Gradually sprinkle in active yeast and stir to combine. Set aside until yeast mixture is foamy, about 2-5 minutes.
2
In large mixing bowl, combine flour, sugar, and salt. Make a well in the center of the dry ingredients. Pour yeast mixture, 1 cup water, and 1 T. olive oil into the well. Using a fork, mix until dough starts to cling together.
3
Knead firmly with hands inside the bowl. Gradually add flour if dough is too sticky. Continue to knead until gluten starts to develop. The dough should become stretchy and firm. Shape into ball. Rub exterior with remaining 1 T. olive oil. Cover bowl with plastic grocery bag or damp towel. Place in a warm location to rise for 1-2 hours.
4
Preheat oven to 425. Divide the dough in half. Shape each half into a flat disk and crimp the edges to look like a normal pizza crust.
5
Spread pizza sauce over dough using a spoon.
6
Sprinkle with cheese and pepperoni on one pizza.
7
Cover second pizza with cheese and herbs.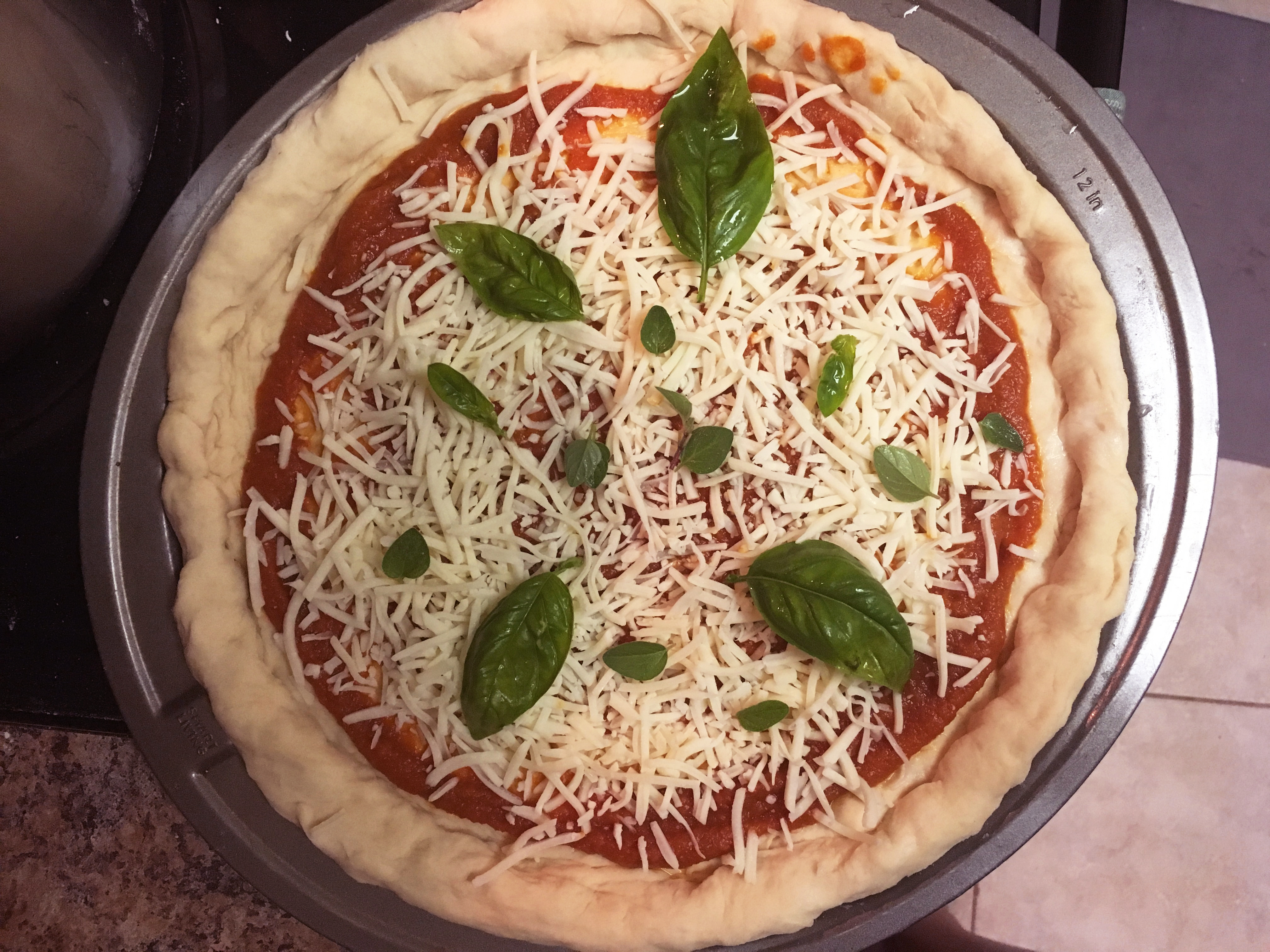 8
Bake at 425 for 10-15 minutes, or until cheese is melted and crust is golden brown.
Wed to a Chef